Booklet ''Pasivna hisa Posocja''
Pososki razvojni center as a partner of the Enerbuild project has published a booklet about cultural heritage of the area, passive house technology and the best results of the architectural competition.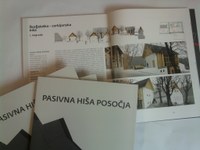 The target group of the booklet are public institutions, decision makers, investors, architects, etc.. Presentation of the three different house types of the area (by Andrejka Scukovt from the Conservation centre) is upgraded with two articles about passive house challenges and technologies (by Martina Senegacnik Zbasnik from Ljubljana Faculty of architecture). The final chapter is a presentation of the best results from the architectural competition.
Document Actions