Excursion to Vorarlberg
A group of architects, decision makers and other important stakeholders was invited on a two-day excursion to Vorarlberg on 13th and 14th of April.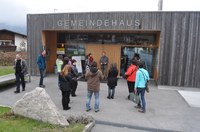 A final educational module from the partner Pososki razvojni center was prepared as an excursion to different examples in Vorarlberg. Not only the architecture but also the organisation, financing and other aspects were in focus of the programme that was prepared by CIPRA.
Document Actions