Energy World-Café
Dissemination meeting in Lyon - Exchange your knowledge on ecological, energy-efficient construction with experts from various EU-projects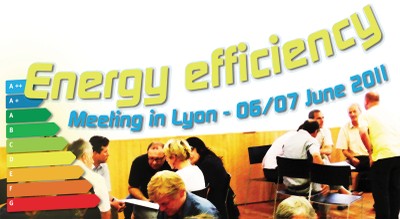 The conference program is tightly structured and methodically focused, so that an inten-sive exchange between the participants takes place and tangible results can be achieved. In order to implement environmental policy goals, politics require efficient tools. The reduction of energy consumption and CO2 emission requires urgent measures.
After a brief introduction of the three topics in form of keynote speeches the topics will be intensively discussed in small groups in the form of a World-Café. In regular intervals the results and interim results will be reported about in the plenum.


Energy-World-Café main topics
Teaching and learning in the context of ecological construction
The role of public authorities as model in ecological building
Energy-plus house - possible developments to produce energy


Useful Travel Information
Location
Registration

Please register now with this link
Registration options:
Option 1: two days package 220.- €, This price includes:

- two nights in Valpré ( 5th and 6th evening)
- two breakfasts and two lunches

- coffee breaks
- seminar package (seminar rooms, material for posters and wifi connections for monday 6th and tuesday 7th)
Option 2: one day package 95.- €: This prices includes:
- night in Valpré 5th of June evening
- breakfast and lunch 6th of June

- coffee break
- seminar package (seminar rooms, material for posters and wifi connections for monday 6th )
Option 3: 48.- € This price includes:
- For local participants without overnight stay, including coffee breaks, lunch and seminar package ( room, material...).
Program
Sunday 05.06.
21:00
Bus will leave the train station Lyon to Valpré at 21:00
All registered participants receive a map


with the train station surrounding area
the public traffic from the airport to the train station.
the exact bus location (our shuttle bus to Valpré)
our meeting place.

The restaurant and bar in our hotel is closed at 5th in the evening. Please take your dinner in Lyon.
Please indicate in the registration form if you need a seat in the bus to Valpré.


Monday 06.06. World Café

08:30 - 09.00

Welcome by Christian Labie, Director Rhonalpénergie Environnement

Introduction by Wolfgang Pfefferkorn, Moderator

09:00 - 10:00

Presentation and Explanation for Project Publications, Daniel Wibmer

Presentation Achievement Table and resulting measures, Franz Rüf

10:00 - 10:15

Introduction World Café Moderator

10:15 - 11:15

World-Café - 1st Round 4 groups (WP4, 5, 6, 7), 1 moderator (WPR) for each group, who remains at the table

The table moderator presents already achieved results and than starts in the discussion by raising questions regarding: achievements, knowledge-sharing, visualization of result and dissemination issues.

11:15 - 11:30

The Moderator evaluates the discussion process according criteria's, and mobilises for the next round.

11:30 - 12:30

World Café - 2nd Round

12:30 - 14:00

Lunch – Buffet

14:00 - 14:15

Introduction moderator

14:15 - 15:15

World Café - 3rd Round

15:15 - 15:30

Feedback by the Moderator

15:30 - 16:30

World-Café - 4th Round

16:30 - 17:30

Feedback by the moderator and following time for the Table Moderators to summarize the inputs of the day

17: 30

Invitation by RAEE: Excursion to the new City District called "Confluence" with many public and private performed buildings, with a great urbanity and energy efficiency strategy. The local energy agency, who works on this project, will guide us in this district.

After this we join a boat on Saone river to see the old city and have dinner.
Tuesday 07.06. SG-Meeting

09:00 - 10:15

Useful information from the Programme for the project, Céline Paris, ASP Contact Point
Presentation of Results and prospects by the Table moderators, Synthesis of the previous day by the main Moderator, cooperative exchange

10:30 - 12:00


Decision on definate list of publications based on the guideline for publications and result booklet
Decisions on measures to be taken based on the table of achievements
Decision on the proceeding for budget shifts
Decision on the date and place for the next SG and the final meeting
Dissemination events in the upcoming year.

12:00 - 14:00

Lunch buffet
Document Actions