Enerbuild at CIPRA yearly conference in Bovec
The results of the work done by the architects were presented to the participants of the yearly CIPRA conference that took place in Bovec from 15. till 17. of September.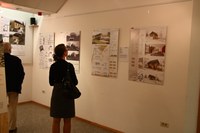 Soca valley development centre as a project partner has presented the exhibition to the public in several municipalities and now it took the opportunity to present it also to the participants of the CIPRA conference in Bovec (SI). The main topic of presentations, discussions and workshops was energy autarky in the Alps and passive houses are a part of the same story.
Document Actions