ENERBUILD project results as a highlight at the Alpine Space MidTerm Conference in Grenoble
In the project highlights session ENERBUILD presented the 100% regional green electricity product and the ENERBUILD tool for evaluation of public buildings.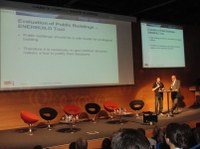 Project Highlights Session
In the tenor of the conference, capitalisation of results, alignment with the EU2020 policy and acting as a macro region ENERBUILD presented its developped evaluation tool. This tool allows to visualize public buildings as a role model for ecological building and gives political decission makers a basis to justify their decissions towards ecological building.
With the ENERBUILD tool as a transnational label applied in the regions the tool can play a key role in defining an EU wide common set of most significant indicators.
For capitalisation of results ENERBUILD works already together with other projects from different EU programmes. In the last meeting in Lyon beginning of June the idea of a joint conference of projects, decission makers and multiplicators on EU level in Brussels (15th of November) was more detailed to disseminate this important result also on an european level.
Interesting links:
Document Actions